SCLS Visits the
Orange County Model Engineers
Spring Meet 2009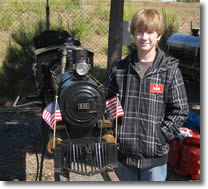 On April 25th 2009 Rudy and Phil loaded up Phil Cohen's truck and a U-Haul trailer and headed out to the OCME track in Costa Mesa, CA for their Spring 2009 Meet. We took the newly restored club American 4-4-0 Steam locomotive with tender, propane car and a riding car. We also took the F7 and its riding car as well as an additional passenger car. We also took 3 of Tom Downing's freight cars along and met him at the track where he had his steamer ready to go.
We had a nice breakfast once we arrived and unloaded the truck and trailer and proceeded to steam up the American. Charlie and Todd met us and soon Charlie was out on the tracks with the Santa Fe F7. The American steamed up nicely and soon we were out on the tracks with it running really well and making loads of steam with the new burner that Tom installed. She looked really sharp and sounded great. She has quite a bark!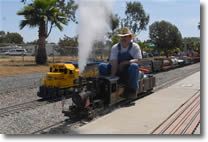 Linda, Heather, Kelley and Jo Anne joined us around lunch time and we broke for lunch cruised around until dinner and then rode the rails into the night. All of us had a great time. It was late, dark and chilly when we stopped and decided to leave the equipment there and come back in the morning for a second day of the meet, we ran all day and then loaded up the equipment and headed home where we were met by Todd to help us unload. Overall a really terrific weekend. We met a lot of new friends and hope they will come down to visit us at SCLS some day so we can return their generosity.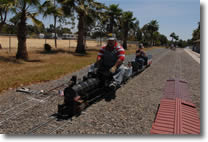 Many thanks to all at The Orange County Model Engineers that made the event such a success and in the warm welcome you gave all of us from the SCLS. You all have a wonderful facility out there and we look forward to our next visit and hope you will visit us soon.
View the Flash slide show below for a view of some of the other engines and facilities out at OCME. Turn your speakers up and enjoy the music too.
By Phil Cohen
Click Below to Play Video
Be Patient, May take a few seconds to start.
Right Click and select Full screen for a better view.