SCLS Visits the
Riverside Live Steamers
Fall Meet 2008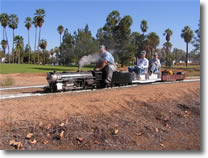 On October 25th 2008 6 members of the SCLS loaded up the trucks and went to visit our neighbors in Riverside, CA at the Riverside Live Steamers. The "Judge", Roy Murdock's Pacific 4-6-2, and its tender were loaded into Phil Cohen's truck along with misc. tools and goodies, and a riding car and gondola were loaded into Rudy's pickup for the trek out to Riverside. A big Thank You to Roy Murdock for allowing us to use his locomotive for the trip.
The 6 brave souls that ventured out to get started on the trip at 4 AM were Gene, Phil Nyman, Heather, Linda, Rudy and Phil Cohen. By the time we hit the road it was around 5 AM and we arrived at Riverside around 6:30 AM.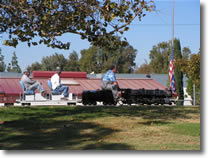 As I am relatively new to this hobby, this was my first time at a "Live Steam Meet". I must say that if I was not hooked before, I am certainly hooked now. I think my face is still stuck in a permanent smile. We had a wonderful time meeting everyone out there and we would like to thank the members of The Riverside Live Steamers for their gracious hospitality.
Upon our arrival we were served a wonderful breakfast of bacon, eggs, sausage, hash browns and pancakes that were as light as a feather, along with some nice cold orange juice. Breakfast really hit the spot and got us off to a great start for the day.
After breakfast we started to get the Judge ready for steaming and before long we were ready to go. We had fun for several hours before coming back to the barn where Linda prepared a nice picnic lunch for us hungry engineers. After lunch we went back out and had more fun playing trains. We broke for dinner and upon our return did a little night running which is a great experience. We finally said good bye to our new friends and arrived home sometime around 5 AM on Sunday. What A Trip!
Many thanks to all at The Riverside Live Steamers that made the event such a success and in the warm welcome you gave all of us from the SCLS. You all have a wonderful facility out there and we look forward to our next visit.
View the Flash slide show below for a view of some of the other engines and facilities out at Riverside. Turn your speakers up and enjoy the music too.
By Phil Cohen
Click Below to Play Video
Be Patient, May take a few seconds to start.
Right Click and select Fullscreen for a better view.