Once again, the SCLS crew decided to take another trip out to the Joshua Tree & Southern Railroad (JTSRR) this year for another day of live steaming. The gang left at around 6:00 AM on Sunday, February 20.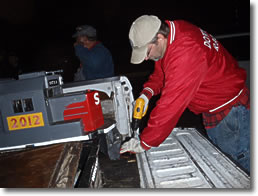 Charlie, Todd, and Phil left from Torrance in Todd's van which also carried the American locomotive, tender and propane car, which we loaded the previous night. Tom, Wyatt and Blake, rode up in Tom's Truck with his GP-60 diesel, riding car and Rory's snow plow. Shane and Shane Jr. drove up in their minivan which carried some riding cars. Steve drove up in his truck. Rob and Rory went up in Rory's pickup and carried Rob's 0-4-0 tank locomotive, tender and other related goodies plus Howie and Dale from the Redondo beach area drove up in Howie's truck with his speeder and a few cars. The Moore family, Todd, Collin and Russell also came up. We all met up at the Joshua Tree Denny's were we enjoyed breakfast and a quick snow ball fight in the parking lot before turning down the road towards the track.
When we arrived we were happily greeted by the JTSRR gang and others. With some help from them and the rest of those arriving we unloaded the SLCS's Allen American, Robs saddle tank and Toms GP-60 along with a few other ridding cars and Rory's snowplow. Howie had already unpacked his Speeder and a ridding car he brought.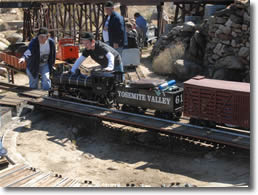 Meanwhile, back at the steaming bay, we had the American pushed into a bay and readied the locomotive. Alongside was Todd Moore, steaming Rob's 0-4-0 locomotive and on the other side was Scott Lewis with his beautifully detailed AT&SF ten-wheeler.
Once we got all steamed up to about 80 pounds I brought the American over into the yard and ran the loco around a few times. It did okay but I noticed a few of the burners in the firebox seemed to be clogged and not putting out any flame. JTSRR is a fairly complex track to get around with some steep grades. It is very important to watch your sight glass with the constant ups and downs. Water vanished quickly. If you are not careful you can reach the summit with dramatic water and steam loss. On the bright side, there is a nice down grade that is more than likely to help you get rolling with out to much throttle.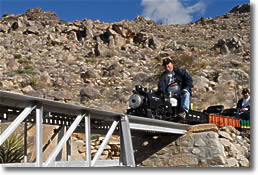 One thing that makes JTSRR such a unique track is that it is point to point instead of a loop like most tracks. Located at the summit is a balloon loop. At the bottom there is a Wye with spring loaded switches and a gorgeous bridge you can back up onto allowing you to highball past the station and up the grade. From there, the track cuts back and forth in a long S shape that brings you up to the yard and balloon loop. Also up at the summit is the highline branch (another summit in itself!). It hosts yet two other gorgeous trestles and a steep, but perfectly balanced grade to get your loco up and chugging. At the top you can enjoy a beautiful look out over the layout and city of Joshua Tree. Eventually the highline will have a switchback and turn table which will allow trains to travel even higher up the mountain. Currently the right of way for the switch back seems to be leveled and ready for track and ballast. It also has a bridge already in place. I could not stress how gorgeous the bridges are at Joshua Tree. They are worth going out and seeing. A joy to run over and take pictures of.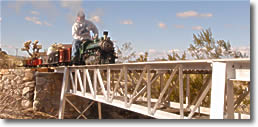 After running for a while, with the American taking two trips up the highline, the engines gasket in the steam chest began to blow out and finally no longer allowed the loco to be operable. Lesson learned that when doing gaskets, best to use high temperature materials instead of your home depot of the shelf unindustrialized stuff. Hopefully in the next weekend or so, I will be able to go down and fix it with Steve who is ordering some better materials. We will also get the cylinders packed up a bit better so she will be a little more steam tight. To bad that only Dale and I actually got some good running on her. We (or as the guys would say…We?) will have her fixed up for next trip out so the rest of the guys can enjoy some steam running.
Also out on the track were the ------ with their Dad's Atlantic. The engine hadn't run in a few years so the family had her out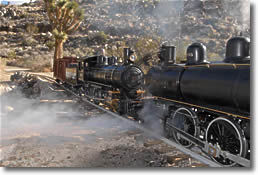 and running around. Was a real neat loco with cross head and steam pump on the side. The engine was also lettered for South Riverside and Ellsinore, which my Dad and I loved, as Ellsinore is one of our popular weekend trips to visit my grandmother. We had a total of 4 steamers on the track at the peak of the day plus three other locos including a real nice little electric from Chula Vista.
Around 4 PM or so, the sun had begun to set and in fear of the low evening temperatures, the SCLS gang packed everything up and were back on the road returning to LA. We all had a wonderful time with the JT gang and thank everyone for another wonderful trip up there. It was great to be able to attend there first Standard Gauge meet. We will be up soon, maybe in March hopefully. One requirement is that we will have to re-letter the American for D&RG so that we look the part!!