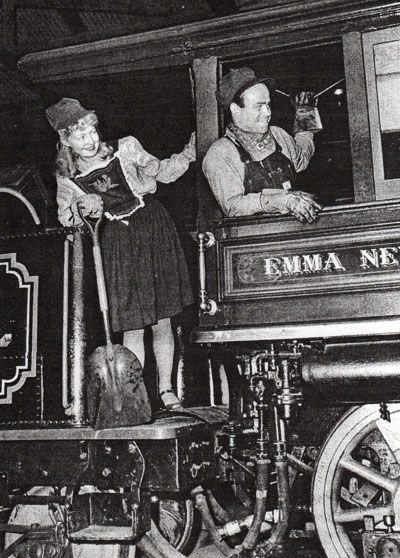 Ward Kimball and Betty Kimball pose in Emma's cab in 1945, after all the ornate lettering and gold leaf striping had been completed.
Ward Kimball is seen in the fireman's seat contemplating a successful first steam up, on May 22, 1943. Before long, Ward will add a hand painted scene to the side of Emma's headlight in addition to all the striping and lettering.

This pen and ink drawing by Ward Kimball shows Engine Number .2 and its coach, which he used on his personal stationery.
How many people are aware that one of the founding members of the Southern California Live Steamers in 1942 had a full size railroad in the back yard? He was also the new Club's corresponding secretary. When it was decided a Club logo was needed, he was the natural choice for the job. Why was this? It was due to the fact that he was an artist and cartoonist employed as an animator at Disney Studio. This man was Ward Kimball (1914 - 2002) and his 2 acre estate in San Gabriel was the home of his narrow gauge Grizzly Flats Railroad.
In 1938, this 24 year old rail fan and his wife of 2 years, Betty, had finally found an old narrow gauge passenger car to put in their back yard to display Ward's O gauge model layout and antique toy train collection. They discovered an 1879 Barney and Smith coach that Southern Pacific was going to burn as scrap in the Owens Valley. Ward paid $50.00 for the car and some 35 pound rail to set it on. This kept Ward occupied for a while, till one day he heard about a narrow gauge line that ran out of Battle Mountain, Nevada, that was shutting down its service. The Nevada Central had several steam locomotives that were going to be sold to Japan for scrap. One of them, a 2-6-0, was still in operating condition. It was a Baldwin Mogul built in 1881. He bought it for $400.00, and paid another $450.00 for shipping. It was put on a gondola and brought to the Southern Pacific. shops in L.A. and given a successful boiler test. Engine Number. 2, originally the "Sidney Dillion" would be restored to it's original splendor over the next several years.
It took 5 years to restore the engine and coach. Also during that time, 500 feet of track was laid which ended at the rear of the Kimball property with a 2 stall engine house. Ward renamed his mogul "Emma Nevada", after a famous early-day opera star, and this colorful gal had her first steam up on May 22, 1943. She showed that still had a lot of life left in her on that day Even with her pressure cut back to 100 pounds, her single tone whistle and smell of coal smoke let the neighborhood know, the Kimball's new baby had come to life-weighting in at 22 tons.
Even before her first steam up, the Southern California Live Steamers had its first annual field day on October 18, 1942, with everyone present posed next to the Emma Nevada. Many of the Club members spent long hard hours laying track, and making new parts for the engine. Bill Cooper constructed the new wooden pilot and Art Fleming's sheet metal company replaced parts that could not be restored. More on the Grizzly Flats in future articles.