On May 9, 2009 Tom and Wyatt didn't make it to the SCLS Golden Spike Ceremony at the club but as you can see they had a good excuse.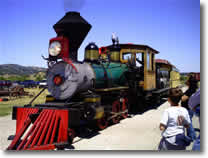 On May 9, 2009 Tom and Wyatt didn't make it to the SCLS Golden Spike Ceremony at the club but as you can see they had a good excuse.
We started on our road tip at 5 AM. First we went to Rob and Rory's shop where we all met to car pool to the Pacific Coast Railroad Round Up. Rory's girl friend Donna also joined us on our trip. Because of the fires off Highway 101, we decided to travel up the 5 Freeway. We stopped for breakfast at the bottom of the Grapevine and than took State Rte. 58 to Santa Margarita.This was a windy, narrow, up and down road, but a fun drive was had by all of us. Rory was driving and he told us not to worry as he had his foot hovering over the brake pedal, and all was going to be safe, as he could stop on a dime! We had to stop only one time as Wyatt started to get car sick, plus I think we all needed some fresh air and a leg stretch. I had been across the state many times but had not been on State Rte. 58 before. Now I know why!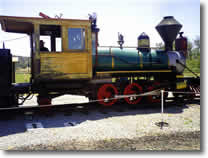 We got to the Round Up all in one piece at about 10:30 AM. The Santa Margarita Ranch was a beautiful place and full of history. It also has a great 3 foot gauge railroad that has about a 2 mile loop of track with some good grades so you get to hear the locos work a little bit. Most of the train crew looked to be made up of people from the Bitter Creek & Western Live Steam Railroad. This made for a more colorful time as our little group knew a lot of the good people from Bitter Creek. There were two locos steamed up and running the loop with 2 two car trains made up of some older coaches from Disneyland. The first train we rode on was pulled by a 2-6-2, made by Porter in 1897, named Melodia. This was a good brassy looking loco with small drivers.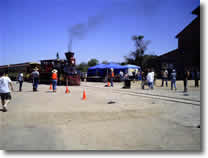 After the train ride we walked around and checked out the displays and the big old barn that had a bunch of railroad type vendors setup in it. Wyatt spent a lot of time in the barn making new friends and working some deals on some HO sale cars and locos. He ended up getting a bunch of stuff from some very nice people. There was a good size G gauge layout set up outside on some big tables, and a loop of 7.5" track with a smaller Roll Models loco with 3 bench cars running on it. There were a lot of small one cylinder motors running on display and a few old cars to view.
After we had a few cool drinks and a tri-tip sandwich we went for more train rides. The second train was being pulled by a 4-4-0, this was a good sized loco. We where told, by Karl from Bitter Creek, it was one of four big park type locos that Bob Harpur had built years ago. The funny thing was, when riding on the train, you could feel the crew holding the long legged loco back just like we have to hold our club 4-4-0 back. We went for a few more rides than got on the road back home.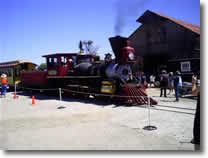 The ranch looks like its set up for holding weddings and group events with the train in the back ground. It looked like the people running the event had a good time showing off their train, and it being the star of the party for a change. Karl was also telling us that there has been talk of putting in a good size 7.5" layout on a part of the ranch. Boy, I hope this comes to light as it would be a great place to come run our trains. It would also be fun to come up on a weekend or two, or more, and help build it too!
On the way back we stopped at San Luis Obispo to see the museum that had sponsored the round up. We had ice-cream shakes and looked at a few newer type trains. Coming home we took a vote and my suggestion of using State Rte. 166 was used. This is a much better road as I knew it would be, having been across this way a few times over the years when I was racing sprint cars at the different fairgrounds in California. Over dinner at the Macaroni Grill all in the group said they had a great time but it was a long day.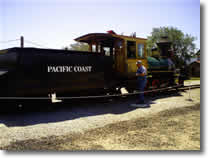 The only thing that I thought was missing was that there is a old runway on the ranch that the train went by. It would have been way cool if there was an old biplane landing and taking off once in a while during the day. You know the old saying, "boys and their toys"- Trains, Planes and Cars.
By Tom Downing