An overview of the SCLS's trip to Riverside Live Steamers Fall Meet 2009
Last Saturday 10/24/2009, 7 SCLS members took the trip out to Riverside Live Steamers for their annual Fall, all steam 2009 meet.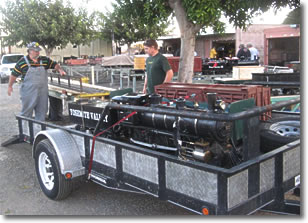 Our journey began the day before on Friday 10/23 around 5 o'clock when when Charlie and Todd Giordano met up with Phillip Cohen to load up the SCLS American and green riding cars for the meet. Todd's van wasn't large enough to haul the little steamer so he shot up Narbonne to his brothers to pick up a trailer for some more room to carry all of the rolling stock. We loaded all the trains up and got out of the club around 7pm or so to go grab some new propane tanks for the following days journey to the meet.
The next morning Charlie and Todd woke up and drove down to the club, running fashionably late, to pick up Phil. Steve Claude also showed up and followed us out to Riverside. We rolled out onto the 91 Freeway and made good time getting out there in a little over an hour.
We arrived around 7am I think. (Just guessing on times judging by the time I recorded from when I woke up that morning). We unloaded all the stuff and made our way down to the end of the steaming bay to grab some breakfast. It was a typical live steam club breakfast complete with greasy bacon, eggs and french toast and all was wonderful. It was hard to eat though, while having a clear view of the other engines being rolled out onto the steaming bays, being tempted to go over and check them out. Tom and Rory got there shortly after our arrival and unloaded Toms 0-4-4T, SCLS green ridding car and SCLS caboose in need of some repair.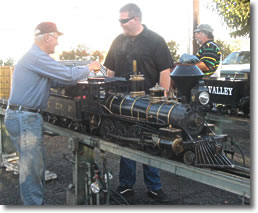 After having breakfast I made my way over to Charlie Dockstader and his beautiful CP #229 4-8-0. After chatting with him he made his way out onto the tracks and invited me to take a couple of spins around the track on his engine. I could not believe how wonderful his engine worked. I might sound bad by saying this, but it was almost like operating and electric or diesel engine. The throttle smoothly opened and whistle sounded clear and pretty. It was for sure the finest built engine I've ever had the chance to run and I pray that one day we can get the club's American down to a fine dime like that engine. Steve joked that after being there for less than 45 minutes I had already suckered someone into letting me run their engine.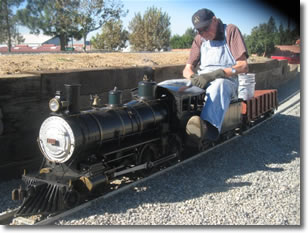 I really had a ball that morning and in spite of the cold, I could not have made it any better. We also got the chance to see Gene Allen's Allen 4-4-0 which is basically the same as our club engine noting that the number plates on our engine is #613 and Gene's was #614. Was really neat to be able to see all those steam engines everywhere and meet all of the interesting people!
Mark Jordan soon came up and rode around with us on the American. I will say, our little American was dwarfed by the size of the Santa Fe Northern out on the track and the Nickel Plate Berkshire running light. I really loved all these engines and made sure I would add a couple more items onto my christmas list my parents might consider if we decide to sell the house or win the lottery.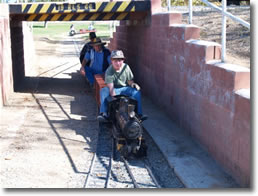 The day continued and the American ran nonstop all day for about 8 hours!!! The fire did go out though eventually and the pressure dropped down to about 20 pounds which led us to having to be pushed up into the yard by another train until Phil came along and had the pressure back up to 80 in about 15 minutes! The propane tanks were some what of a drag by the end of the day and I found them empty again as I completed one of our last laps! Luckily I was able to run around the whole track on about 40 pounds of steam which was quite the accomplishment for me in my opinion.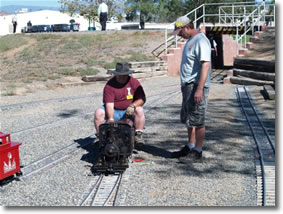 After receiving new propane tanks, Phil double headed for a little bit with another train and we ran into the night. Tom Downing steamed up and I went around with him a few times as we were attacked by owls and other swooping birds haha! We finally had to pack up as it grew late and we were all ready to go by 10:30 pm.
We all had a wonderful time and we thank Riverside Live Steamers again for their hospitality. Will be seeing them again hopefully at one of their future meets!