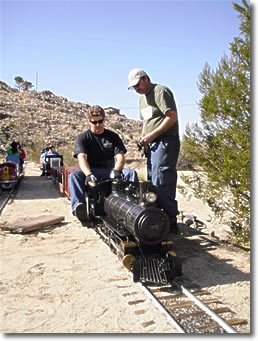 Well on February 13, 2010, the Live Steam gang from the Southern California Live Steamers made thier way up to the Joshua Tree & Southern Museum. We had all started our journey up from the L.A.. area and were in for a good nice 2 hour trip through the beautiful desert scenery. It took my father and I about an hour and a half as we had already made it up about half the way the past evening to get a head start. Around 9 or so though, we pulled into Joshua tree to find a small, sleepy, desert town, surrounded by big rocks and of course, Joshua trees!
T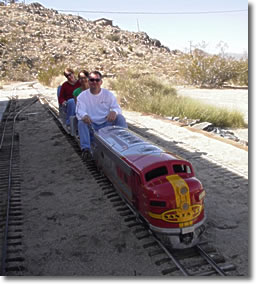 he first thing coming to mind when you pull into Joshua Tree is, "How in the world did they build a live steam railroad out here?" The area is filled with huge boulders and Joshua Trees and we were lucky to have nice weather. I am sure the summer months are probably not the best time to be out there. The weather was very good though. A slight breeze and nice clear blue skies. We werenít there to take in the sights though. We were there to run some trains!
After buying some food and drinks Dad and I made our way out to Rincon Road. After going up the old dirt road and making our way onto Willow Lane, the club was visible in the distance and I could already see steam coming from the pop off valves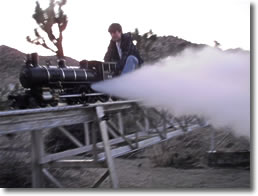 of steamers as we neared the front gates. Upon our arrival I was greeted by member Terry and some others from the club, as well as some Chula Vista Live Steamers out there with a steam loco. Everyone gave big firm handshakes but I soon was done talking to people and made my way straight into the steaming bay to get a look on our American we had brought out and other locomotives. Tom D and Steve C we already steaming the engine up and Rudy and his son Isaiah were also there from our club.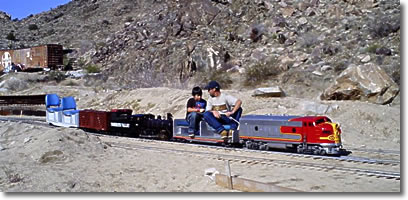 After chatting around some more and looking over the steaming bay and beautiful trestles that cover the JT&SMís facilities I hopped on Ye Old F-7, our club owned diesel hydraulic loco all pretty and polished up waiting to have her engine started! I warmed her up a little and made my way out of the yard onto the clubs mainline. Looking straight ahead we made our way down the line over some, yet again, beautiful trestles and down to the station.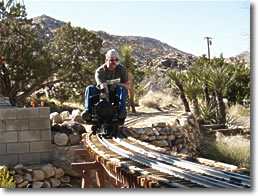 After spinning on the clubs "Y"and making our way into the depot we hopped off and were again greeted by more members and got the low down on what was going on. The club is so cool and unlike the other clubs I run at, this club is point to point so no loops or circle. This is a REAL railroad where a train runs to one point of the railroad and then turns around at the other, and the cycle continues. After leaving the station I pulled the F-7 back up in the yard and walked back down to the station to grab some pictures of their beautiful rolling stock and structures.


Terry offered me and some members a tour of the facility and we dropped everything and went on a walk around the property. We were given tours of full size passenger cars that still function as dinning cars and sleeping compartments. That wasnít just it though! We also got a look around the clubs machine shop inside an old AT&SF box car and then made our way even more up the hill for the grand finale.
Up on the top of the JT&SMís property is one of the coolest things I have ever seen. A small 15 inch gauge live steam section, home to the clubs 2 truck Coffey shay and a huge trestle towering 20 some feet above the ground! Later in the day I got the chance to operate the shay and what a blast! Truly one of the best experience in my life! I sat throttle and was able to run the engine around there little loop and out over where I tried my hardest to blow out my ear drums with the engines whistle! What a blast!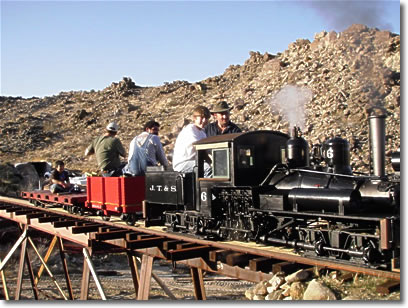 I left the group after the tour though and lit our steamer back up and ran some more laps around the track. Was real fun and the steep grades really made the trains bark and get going! When I was done, I gave the loco back over to the other guys and went on a photo and film expedition to cover every square foot of the club! Out on my ďexpeditionĒ I met Kevin and Jennifer Byrne. Kevin was taking pictures of our loco and asked a couple things about it. Come to find heís moving out to the Orange County area home to the Orange County Model Engineers and thinking about buying or building a loco. As an introduction and look into the hobby I figured Iíd let him run the engine around and get a feel for the track. Kevin hadnít ran a loco before so I showed him the controls and soon he was out and as he described ďaddictedĒ. Kevin zipped around the track most the day and had a ball. We also picked up a member from JTS who also gave his hand at the throttle. Another Kevin of course by the name of Kevin Kane. Later we picked up Kevinís wife Liza who chatted with me and we all swapped out emails pictures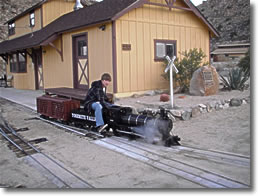 and etc later leading to the publishing of this article on the JT&SMís website. Kevin ran around a couple times himself and soon the engine was getting past around all day with rookie engineers taking the throttle and having the time of there life. I believe one fellow with his daughter was even out from Iowa?! A good deed for the day and some good karma!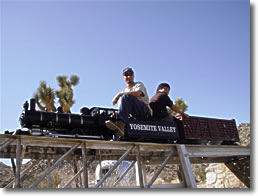 After a long day though of hard running on are clubs little steamer and F-7 I made my way around on a last trip with the steamer and brought her over to the loading zone where we blew her down and packed everything up. I said goodbye to new friends and shock hands. This was the best trip so far and Iím not kidding! The clubs hospitality and kind, friendly, and laid back atmosphere made it a very pleasant and welcome and Iíll be back soon with more trains and people! Thank you to all people at the JT&SM for a great Saturday!