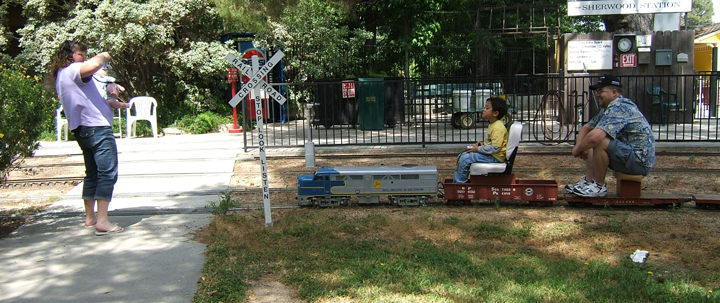 In February 2006, my father and I joined the Los Angeles Live Steamers Railroad Museum in Griffith Park, CA. Back then, I was 11 years old, and I knew a lot less about railroading than I do today. None the less, I always had an interest for railroading in general, but live steam/diesel was very new to me. Like a lot of members, I came to LALS with my parents when I was a small child and watched the Sunday operations. When I joined LALS, I was eager to construct a 7.5"gauge locomotive, and I didn't even consider looking into 4.75"gauge. At the time, LALS removed all its trackage in the Webb Yard and Sutchville Station, and were relaying it in a better format, including the small scale lines. Due to those circumstances, you could only run point-to-point on the small scales, so nobody wanted to bring out their small scale equipment and run it.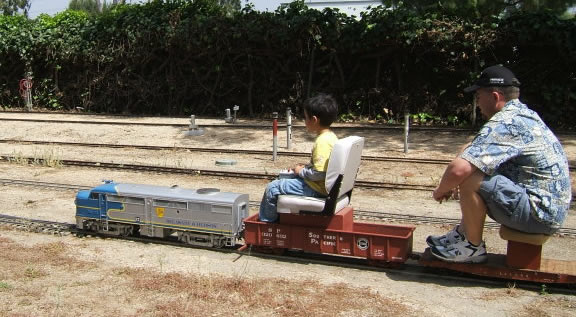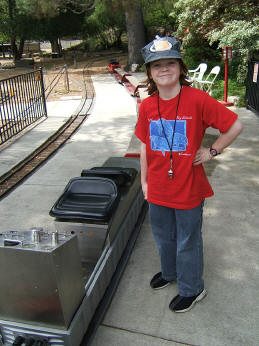 Back then, I had never seen a small scale locomotive in person, so I didn't know what the small scales were really like. However, that would all change on May 20th, 2006, when I saw a small scale in operation for the first time. The locomotive I saw was a Decho Scale Models 1"scale, 4.75"gauge Delaware & Hudson ALCO FA-2 #22, owned until 2008 by Tom Downing and his son, Wyatt. That day, Wyatt was running it "point-to-point", and doing a fine job. It was that event that forever changed my view of the small scales and enticed me into getting into small scales. That lead to the purchasing of my first locomotive, a Riding Railkits 1" scale, 4.75" gauge 4-Wheel battery/electric Yard Switcher, later known as Atchison, Topeka & Santa Fe Railway #471. This article was originally written by me on the weekend of May 20th, 2006, but I have rewritten it many times in the past few years. This will give you an insight to the very day I discovered 1"scale railroading.
On a sunny Saturday workday at the Los Angeles Live Steamers Railroad Museum, my father and I arrived to put in probationary work hours. When we first arrived, I noticed that the club-owned gasoline-hydraulic 1.5"scale Southern Pacific ALCO PA-1 #6006 was being serviced at the steaming bays. It's red, black and orange "Daylight" paint-schemed shell was removed so that they could service the engine and components. It was so long that its riding car was sticking out onto the transfer table. After watching several members working on her for a while, we went over next to the Steam Plant and volunteered to help relocate the Disney Barn South Fence, which was part of the construction of the 1"scale Steam Plant Junction Yard, which was nothing but a pile of dirt and pine needles at the time.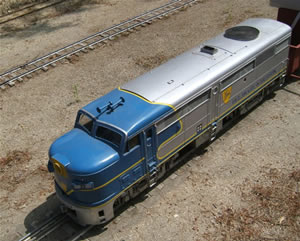 After moving dirt for a while, I began to hear a prime mover rumbling from Steam Plant Junction, which I mistook as being an educational video playing like the one in New Sherwood Station. Wondering what it could possibly be, I asked one of the members next to me, "Where's that noise coming from?" The member said, "There's a small scale locomotive idling back there." When I walked over, I saw a 5-year old boy by the name of Wyatt sitting in a 1"scale Southern Pacific 40" Gondola behind a 1" scale Delaware & Hudson ALCO FA-2, talking to his father, Tom Downing. Unfortunately, I was tied up with helping on relocating the fence, so I went back to work.
Soon, we took a break, and I asked my dad if I could see the locomotive for myself. He handed me his camera and said "Sure." After I walked over to Old Sherwood Station, I saw Tom coupling up the three club-owned 1" scale flat cars that had seats on them. A guest that was wearing a Hawaiian shirt got on one of the flatcars, then, the four car train pulled out of Old Sherwood Station. The train was moving at a good pace, until it came up to the southwest corner of the loop, where the track was temporarily pulled up and LALS was working on the Sutchville Reconfiguration Project. The guest walked away, and the engine idled while Wyatt watched a backhoe grade the dirt where the lead to Webb Yard would eventually be installed.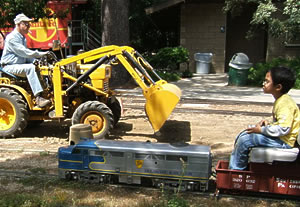 Since I had never seen a 1"scale locomotive in person, I walked up to him and said, "That's an awesome diesel locomotive you have there." Wyatt smiled and replied "Thanks, do you want a ride?" This was the first time I had the opportunity to ride on the small scales, so I said "Sure!" I hopped on the flatcar, and we began to move in reverse down the line. We went back through Old Sherwood Station, past Cooper Yard and over the Lower Lake Trestle. After we went past the Devlin Crossover, we heard a loud clank. Some pinecones left on the track caused Wyatt's engine and riding car to derail. But the three club-owned flat cars were not affected by the derailment.
We tried to find Tom, but he was off talking to another member. Fortunately, a guest family that came along our way helped Wyatt and I re-rail his engine and riding car. After we made sure that all the couplers were hooked up, the children of the guests asked for a ride. We all got on the consist, and Wyatt took the engine down across the Lower Lake Trestle, then through the Cooper Yard and finally disembarking at Old Sherwood Station. Now, it was just me and Wyatt on the consist. He took the consist back onto Rocky River Subdivision, and over his favorite bridge. Then, we drove around Cooper Yard and went on the Lower Lake Subdivision again. Eventually, we switched onto the Inner Loop and went back where Ollie Johnston Station. From there, we went halfway up onto the lead of the steaming bays, but decided to back down. After going on the same lines for a while, my dad called me, and we went home.
Without that event, I wouldn't have been inspired to get into 1"scale railroading, and I probably wouldn't be the same person I am today. It was truly a great run that taught me so many things about operations and being a switchman. It was Wyatt's Big Run.