An inside look on the operations of a miniature live steam railroad.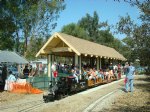 So, what really is going on before the rundays start? Well there is plenty. As most of you know, running a steam engine or preparing a locomotive is no easy walk in the park. It's more like a climb up a steep mountain. From filling up with fuel, to blowing down there is plenty of challenges.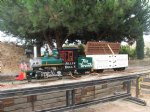 Work usually starts around 8 or so. Tim brings out his Jillie Belle and begins his daily preparations next to Jim with his RMI sweet creek Cal-Pac No.9. The engines are lubricated filled with fuel and wiped down. The fire is started and the engines sit to gain pressure. The engines are given a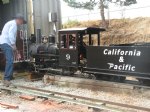 quick overview to make sure everything is in place and ready to go. Filters are cleaned out and they are ready to go. They organize their trains and shuffle their cars. The air hoses and couplers are joined followed by two blast of the whistle and a short climb up to the station where our passengers are seated on the train for a ride around the Southern California Live Steamers miniature railroad.