How did the club come to be?
Live steam modelers were scattered all over the United States in the late 1920's, most not even aware of each other. The first person to start any sort of organization was Carl Purinton, from Marblehead, Mass. He put together a loose leaf book with names of live steamers, including a photograph of their locomotive and asked that it be circulated around the country. The Wandering Locomotive Book, as Carl called it, found its way from Mr. Gunnick of Wichita Falls, Texas to Ernie Freeman of Los Angeles, CA. In Purinton's letter of November 9, 1933 to Ernie, he states, "I can see no reason why you should not sign up Mr. Jackson and any other responsible live steamers in your vicinity."
A month earlier, Purinton held what was the first annual meeting of the Brotherhood of Live Steamers, on October 15, 1933. Mr. Lawrence, who was from England, proposed the concept of a Brotherhood of Live Steamers, and suggested that Purinton start one in the United States.
Very Slowly, the local Southern California model makers began to get acquainted with one another. My Father, Laurence Hiney, knew Ernie Freeman, who lived in the Rancho Park area, Dick Jackson who had just moved from Denver to Santa Monica, and Eddie Sargeant who lived in Sanborn Junction, near Echo Park.
In July 1941, Lester Friend, President of the New England Live Steamers, paid a visit to Southern California, with the intent of getting the local live steamers to form a club. He met with Dick Bagley, Eddie Sargent, Kyle Testerman, Arthur "Bud" Stump, and C.S. "Stan" Chovil and in January 1942, The Southern California Live Steamers was formed with 35 charter members at Richard B. Jackson's backyard machine shop in Beverly Hills, CA. The membership elected Dick Bagley, chair; Dick Johnson, vice chair; Stan Chovil, treasurer; Bud Stump, secretary; and Ward Kimball, corresponding secretary.
Meetings were held at 8 PM on the second Thursday of each month at member's homes. One Sunday of each month, Jackson would steam up the 900, his one inch scale 4-4-0 and operate it over his garden layout, The Colorado Central Railroad, for all of the members and their families to enjoy. Every so often Jim Keith would bring his 4-6-4 Number 300 from Riverside and they would run 2 trains around the 300 foot loop crossing a gold fish pond fed by a water fall, over a trestle, through a tree lined cut, and back to the loading platform where there was a passing siding. A 3 way stub switch at the east end of the siding also lead to a turntable and a steam up track.
Jackson's layout served as the first Club track. When parking in front of his two story home on Alpine Drive, the aroma of coal smoke would greet the members as they came through the side gates by the Jacaranda tree. By mid afternoon Dick would serve lemonade or apple cider and cookies as a refreshment for all to enjoy.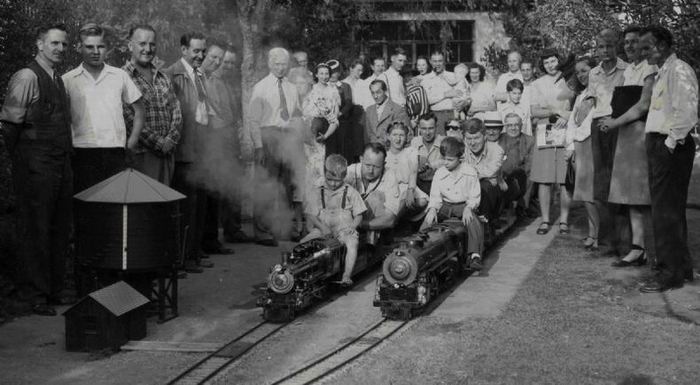 Photo Description:

Sunday run day at Dick Jackson's for the Southern California Live Steamer members and guests on September 22, 1946 featured quite a crowd. Dick's 4-4-0, the 900, is pictured at left, and Jim Keith's 4-6-4, Number 300, is at the right with 8 year old Harlan Hiney posing as engineer for the photograph with his father Laurence Hiney on the car behind him.
---
Stay tuned for future stories and find the answer to questions such as:
How did the Club come to be at Lomita?
Why was the Club not named the Los Angeles Live Steamers?
Who Created the Club logo that is still used today?