Early History of the Southern California Live Steamers
Richard B. Jackson (1886 - 1971) was a founding member of our club in 1942. Before the association with Little Engines Company in Lomita, his one inch scale back yard railroad was used by the club for their Sunday run days.
While not a machinist by trade, Dick was a skilled craftsman equally at home working with metal as well as wood. When Dick was a young man, the automobile industry was still in its infancy. He created a business that gave auto buyers a multitude of accessories. Things that come standard on today's cars were not included in those early days. Still a young man in his forties, Dick sold his business just before the 1929 stock market crash. With his money securely invested he was able to devote ample time to building a miniature railroad larger than one half inch scale which was popular at the time.
Rather than riding sidesaddle on a car perched on a 3 foot high elevated track with rails only two and one half inches apart, Dick set out to build his to twice that size and ride at ground level.
By July of 1930 Dick, with the help of his brother Stanley, had completed what has been considered the first one inch scale live steamer west of Chicago to run at ground level. Dick chose the gauge of four and three quarters inches, which was more to scale than the gauge of five inches made popular in England.
A resident of Denver, Dick patterned his steamer after a standard gauge 700 class ten wheeler built by Alco-Brooks for the Denver and Rio Grande. Dick shortened his steamer from a 4-6-0 to a 4-4-0 so he could carry it in his car. He called his railroad the Colorado Central, after the real line of the same name that ran west of Denver in the late1870's.
Shortly before World War Two, Dick moved to Santa Monica. Not long after that, he bought a two story traditional style home, with bay windows, on Alpine Drive in Beverly Hills. He built a 300 foot loop of track in his back yard, and it became the 900's home for more than 30 years.
More information about the first layout where members of the early Southern California Live Steamers could run their engines will appear in future articles in the newsletter.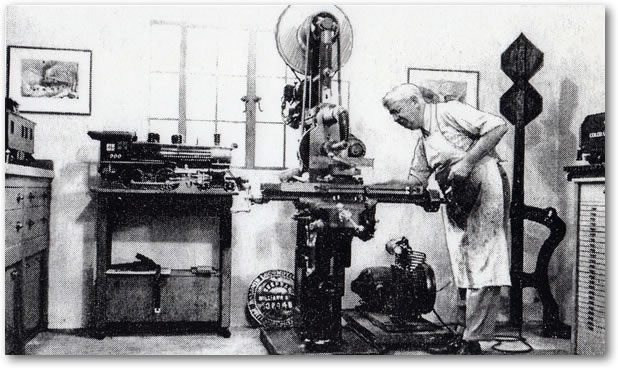 Dick is pictured above working at the milling machine in his machine shop that connected to the rear of the garage at his home in Beverly Hills. The 900 sits on her stand ready to be carried out for the next steam up. At the far right, the tender and turntable sit on top of a cabinet, while the caboose can be seen at the far left. At the bottom of the bench are 2 tracks where the cars were kept. This photograph was taken in 1941, before Dick restored the South Park Railroad's Harp switch stand which can be seen at the right side of the photograph.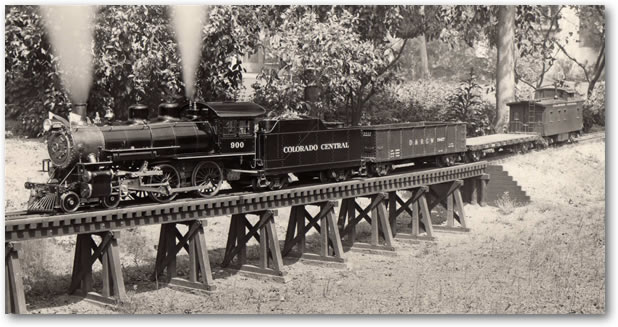 The 900 is posed on the trestle, carrying white flags, and popping off with a full head of steam. Dick removed the seats from the tender and both cars for a touch of realism, in this shot taken in 1944.
Photographs were taken by Gerald M. Best
Next Article Part 4 click HERE